GM is on its way to an all-electric future, with a commitment to deliver 30 new electric vehicles by 2025. These vehicles, like the new Hummer EV, will be powered by GM's proprietary Ultium batteries. ATS Industrial Automation is GM's automation partner for Ultium modular battery cell assembly and test automation solutions.
As GM reinvents itself as an electric vehicle manufacturer, a lot is at stake, and battery assembly is critical. The technology is evolving at a breakneck pace, with design changes happening weeks before launch. As battery costs decline, superior manufacturing automation processes are critical to maintaining margins. With the aggressive production, schedule manufacturing needs to ramp up fast. Businesses like GM want to leverage current real estate if they can; building a new plant from the foundation would add millions of dollars and delay this critical project.
"We have a long-standing working relationship with ATS and are proud of the work we have accomplished implementing our strategy for zero crashes, zero emissions, and zero congestion. The Factory ZERO launch marks the beginning of the pivot point in our vision to all-inclusive electrification," David Russler, GM ME EGM for Battery & Engine Assembly.
The ATS team worked closely with GM to design an innovative automotive assembly system inside an aggressive manufacturing schedule. ATS's advantage is its global reach, scalability, and proven project management skills to execute projects on time and budget. GM's modular assembly system is based on ATS's extensive battery knowledge with different cell types and ATS's comprehensive product offering, leveraging the SuperTrak CONVEYANCETM modular platform. This leading-edge linear motion system increases throughput while reducing footprint and energy consumption, thanks to its integrated functionality. GM was able to gain a 50% improvement in floor efficiency, maintaining their project schedule, and keeping to a budget.
SuperTrak™ Over-Under Configuration
An accurate and robust laser weld is vital to the battery and serviceability of the vehicle. Modern EV battery assemblies require 10,000 laser welds or more and one welding defect can impact a vehicle's range by almost 2%. A strong weld creates an efficient charge and discharge of the battery. A high-quality weld can prolong the battery's life and withstand crashes. However, welding is challenging. It's hard to inspect failures. Welds must be done in a consistent, repeatable process. Stack them too fast, and the packs do not line up. ATS spent 3-years developing this unique approach for GM, that accurately detects and validate the welds. By reducing any opportunity for a weld failure, ATS optimized welding efficiency by 30% for GM, creating a reliable and repeatable welding process.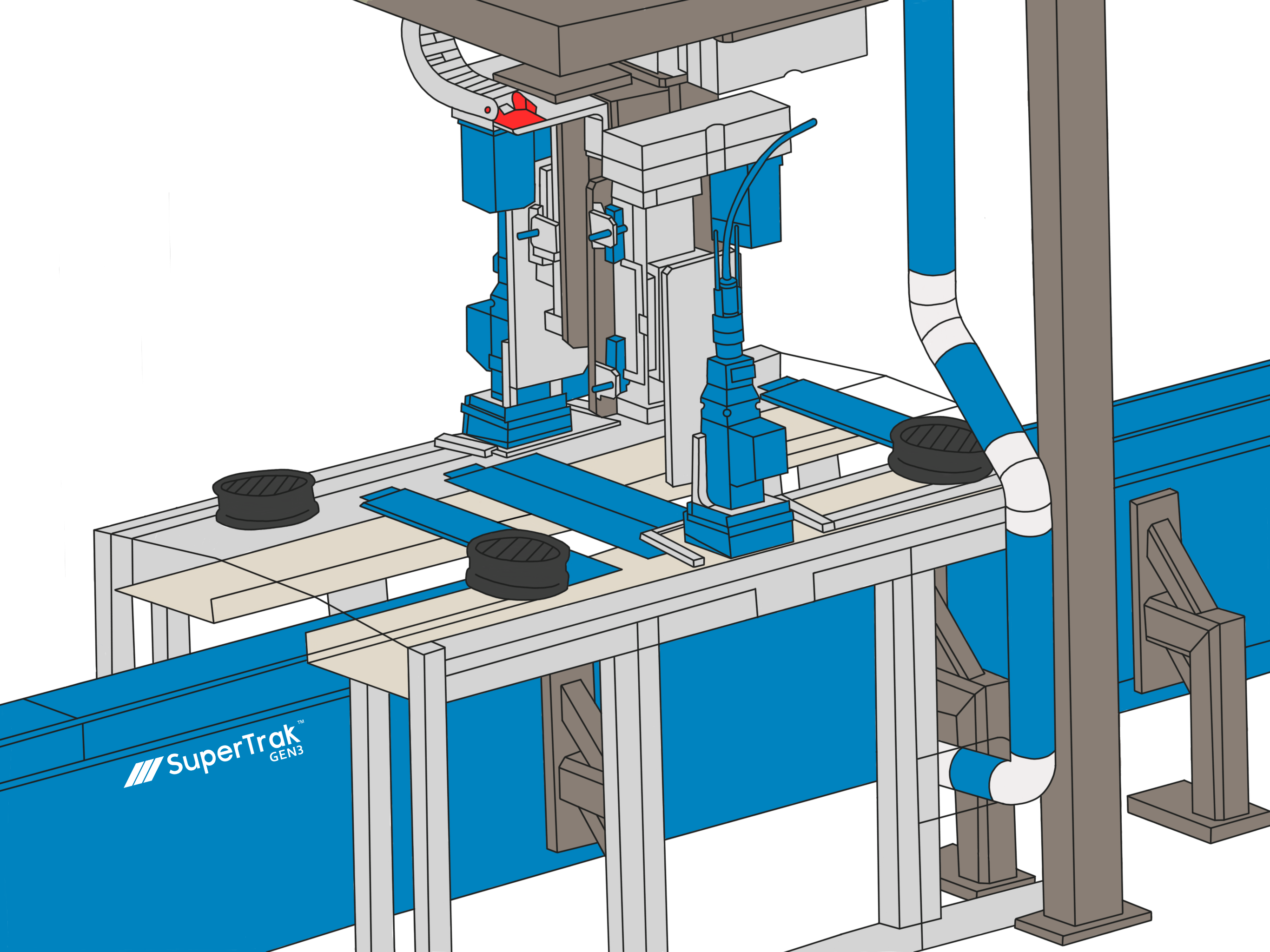 ATS Industrial's SuperTrak platform is the heart of GM's New Factory Zero battery assembly plant.
"Such challenging projects can only succeed when there is a trusted partner, and for 15 years, ATS has partnered with GM to help drive innovation and collaboration," says Udo Panenka, President of ATS Industrial Automation.
With ATS as a trusted partner, GM's Factory ZERO can adapt to market demands and design evolutions, securing GM's market position today and in the future. ATS's automation processes have placed GM is in a position to surpass other EV manufacturers on the market.
ATS is here to partner with you to deliver benchmark processes, overcome manufacturing barriers and streamline manufacturing. With fixed launch dates, every day, every dollar, and every resource matters. Delays means missed revenue that impacts employees, customers, and shareholders. ATS Industrial turns today's innovation and automated processes into tomorrow's reality.
Efficiently, Effectively & Intelligently.
SuperTrak CONVEYANCE™
*Your personal information will only be used for the purpose you indicated above, in accordance with applicable data protection laws, including but not limited to, the EU General Data Protection Regulation (GDPR).  We will maintain your data until you request us to delete it from our systems.  ATS will not sell your personal data. You may opt out of receiving ongoing communications at any time by clicking on "unsubscribe" or by contacting us at privacy@atsautomation.com.  A copy of our privacy policy may be found on our external websites.  Please contact us at privacy@atsautomation.com for additional information about our global data protection compliance program.