For customers looking to increase the level of automation in food and beverage applications, ATS brings many years of providing hardware and software solutions to the industry.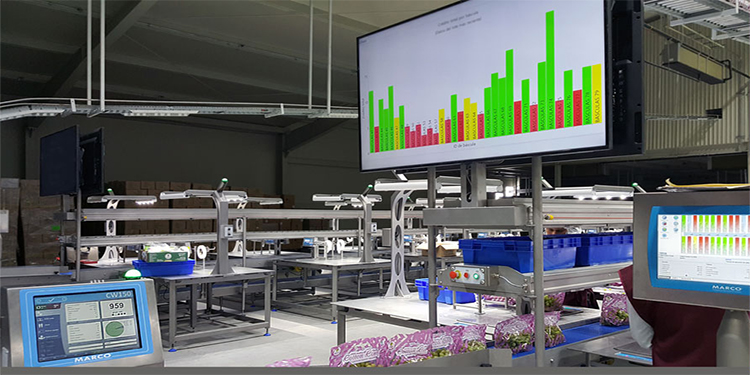 Customers in this space have similar challenges: increasing labour costs,  labour availability, repetitive motion disorders, often cold and wet environments, and virus impacts on factory personnel positioning and the need to reduce energy costs.  In addition, recent trends in online grocery shopping and delivery combined with the increasing capabilities of automation technologies including robotics, vision and 3D picking are boosting the needs for automation across the industry.
To address these needs, there are a number of areas where ATS brings automation potential to the food processing industry:
MARCO solutions for manual order picking
MES and factory process plant software solutions
Robotic automation for discrete item picking and palletizing
Food "kit" assembly automation
IWK tube filling and cartoning solutions
Vision inspection solutions for unique applications
Robotic Automation
ATS has the capability and tools to successfully solve the challenges of robotic pick and place.  Vision guided individual item pick and place, packaging machine integration, automated material handling and AGV/SDV integration are areas where the ATS toolkit can help our customers to improve the overall operational efficiency of the factory.   As end effector and vision capabilities have increased, industrial robots have continued to come down in cost.   Combined with the proliferation of collaborative robots, there are more places than ever where automation can be deployed.  Palletizing and tray handling in special applications are specific areas where ATS has experience.
Food "Kit" Assembly
The production of pre-packaged food kits presents it's unique challenges.   Where dry goods are being processed which are not traditionally processed by continuous flow packaging or processing automation, the use of robotic and high speed feeding techniques offers the opportunity to reduce the dependence on labour while improving the quality of the product.  Where kits include a number of inputs, the combination of conveyance, 3rd party filler and packaging machine integration into a complete system can be provided by ATS to give the customer the benefits of a true turnkey installation.  These systems can also be equipped with Illuminate™ Manufacturing Intelligence software to provide system monitoring and control along with predictive maintenance modules to assure high performance throughout the life of the asset.
IWK Tube Filling and Cartoning
Where food products are sold in tubes, IWK offers its suite of tube fillers and cartoners to solve high speed packaging challenges.   At the infeed to the tube filler, collaborative robot handling of materials is used to provide an ergonomic, space saving solution for these applications.  Robotic or conventional case packing can be added at the back of the line to provide a complete solution.  For more information please click here.
Vision Inspection Systems
ATS vision has 35 years of experience developing automated vision applications in many different applications.  ATS SmartVisionTM software combined with the CORTEXTM vision controller is used to power the various aspect of vision inspection required.  Vision in the food industry includes high speed food quality inspection (custom applications in niche vegetable inspection) which can improve inspection reliability while reducing labour requirements.  As an add on to the vision inspection, the incorporation of sorting and conveyance into a solution can be part of the ATS turnkey solution.  For more information on our vision capabilities click here.