Our Story
ATS is an industry-leading automation solutions provider to many of the world's most successful companies. ATS uses its extensive knowledge base and global capabilities in custom automation, repeat automation, automation products and value-added services, including pre-automation and after-sales services, to address the sophisticated manufacturing automation systems and service needs of multinational customers in markets such as life sciences, food & beverage, transportation, consumer products, and energy.
Founded in 1978, ATS employs over 6,500 people at 60 manufacturing facilities and over 80 offices in North America, Europe, Asia and Oceania.
Culture of Innovation
Our unique track record of innovation and passion for excellence sets us apart as the world's leader in automation.  This comes from years of experience in helping many of the world's most successful manufacturers with their new product launches, capacity expansions, and productivity improvement initiatives. Whether you need ATS to build custom automation globally or help you take advantage of our contract manufacturing, we have the scale and resources to reduce costs and speed time to market.
Dedication to Quality
ATS takes pride in the quality, development and building of automated equipment. A core value within the ATS work environment is the ability to identify trends and implement opportunities for improvement. ATS is committed to providing superior quality to our customers through the use of Lean and error proofing techniques.
Teamwork
Teamwork has contributed to ATS' quality success for over 40 years. All employees are committed and take pride in the quality of products and services that we provide. All employees actively participate in the ATS Continuous Improvement Program making us one of the leaders in the automation industry.
Enterprise Solutions
ATS provides an end-to-end manufacturing solution with unrivaled value for our customers.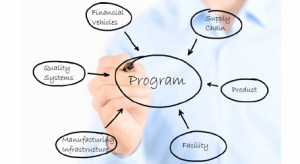 ATS has a unique approach to the traditional model of implementing automated manufacturing liaison and coordination activities between the customer and consultants, OEMs, contract manufacturers, machine suppliers, trades and system integrators can be complex and time consuming. Single source enterprise solutions bring cohesion, consistency and accountability to all programs, freeing up the customer's staff to focus on overall program objectives and key stakeholder requirements.
Enterprise wide Approach = Reduced Risk (Schedule, Cost, Scope) = Reduced Investment, Product Costs, Time to Market
Let ATS help you manage resource challenges, coordination issues, scope oversights with our enterprise and capability in the areas of:
Project management
Partners/suppliers/vendors team selection and coordination
Facility layouts and operational design
Business case development and project justification
System design, built, integration, commissioning, validation, training and start up
Post project service, spare parts and support
ATS' end to end value proposition streamlines a project from program launch to production ramp-up. This simplicity relieves you from the responsibility for activities unrelated to product design specifications and product sales while delegating all other "get to market" activities to an experienced partner – ATS.