Manufacturing has evolved
It is more automated, data driven and dynamic.

To remain competitive, manufacturers need more than production performance analytics, they need a complete Industry 4.0 Smart Manufacturing System that can adapt to their operating culture, reduce complexity and optimize production without requiring expensive capital equipment investments.
Illuminate™ Manufacturing Intelligence is an extensible architecture used by global leading manufacturers to enhance production visibility and improve operational performance.
"It is the best MES system I have had the chance to implement. It is very user friendly and captures everything
we need. It is also very flexible and able to adopt our constant changing needs and requirements."
– Customer Testimonial
Visit Illuminatemi.com for more information about Illuminate™ Manufacturing Intelligence
Industry 4.0 Smart Manufacturing System
developed by machine builders for machine operators

Single pane of glass – Monitor operations anytime and anywhere from our turnkey, integrated, and secure single-point platform
OEE in real-time – Capture real-time OEE intelligence across lines, machines, and locations for top down, bottom up continuous improvement
Visual KPIs – At-a-glance insight with dynamic charts & graphs of key data and metrics
Predictive maintenance – Improve equipment efficiency, yield, and lifespan through AI-driven predictive maintenance
Faster response times – Real-time notifications and alerts enable quicker corrective action
Unified communication – Keep operational team informed and engaged across shifts and locations
Part traceability – Track all components and their associated processes for each of your products through assembly and record it for process analysis, record keeping and compliance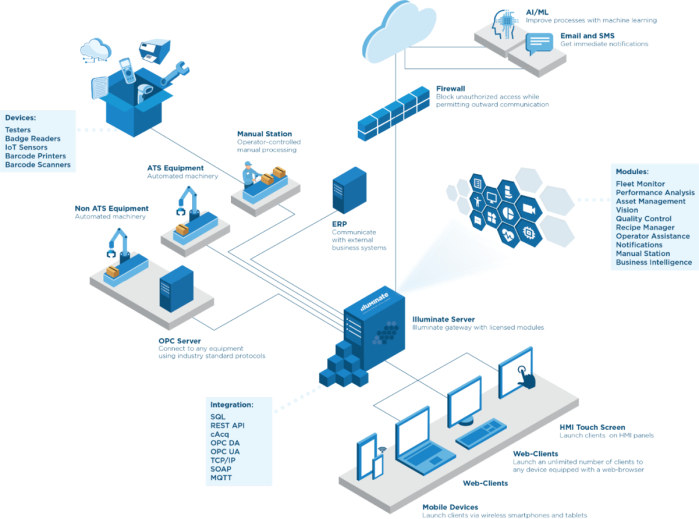 Improve Your Manufacturing Operations
Illuminate™ Manufacturing Intelligence uses real-time machine performance data to maximize throughput, Increase uptime, decrease cost and improve quality.
Maximize Throughput

Capture real-time OEE intelligence across lines, machines and locations for performance diagnostics and troubleshooting
Identify production trends for top down, bottom up continuous improvement
Monitor operations anytime and anywhere from our turnkey, integrated, and secure single-point IIoT platform for effective factory floor management
Achieve continuous manufacturing improvements and production line sustainability with data-to-decision, in minutes, capability

Increase Uptime

Reduce hours of machine down time, remedy issues, and increase uptime with predictive maintenance and planning
Mitigate down time risk by tracking individual cycle counts on: wear parts, consumables, long lead items, or repairables
Increase uptime with integrated just-in-time ordering of spares and parts kits
Proactively optimize spares provisioning and inventory as part of your maintenance management
Be prepared with color-coded early warning reminders and alerts to keep you current in all your maintenance activities
Capture maintenance log reports of repair events to support: future failure analysis, equipment performance improvements, and continuous enhancement of the work management system

Decrease Cost

Improve equipment efficiency, yield, and lifespan through predictive maintenance
Respond to issues quickly and unlock hidden performance
Decrease cost through automated parts management and integrated statistical process control provisioning
Keep the operational team informed and engaged to drive greater operational efficiency through real-time notifications

Improve Quality

Sustain product quality through synchronous and asynchronous processing
Gain visual insight with live stream video for production root cause analysis, and troubleshooting issues – reducing hours of machine down time
Increase control and communication with integrated visual KPIs
Facilitate visual machine learning on parts and product quality control inspection – decreasing hours of operator visual monitoring, performance fatigue, and quality faults
Visit Illuminatemi.com for more information about Illuminate™ Manufacturing Intelligence